My first attempt at a 100-mile race was at Javelina Jundred in 2019.  I DNF'd after 95 miles.  One would think I should have just powered through those last 5 miles, but it was a hot day, 80F at 10 AM, and I was not used to the desert heat and rocky terrain.  I was weak and lacked mental fortitude.  
This time around at Rocky Racoon 100, it was different.  RR100 was held on February 5-6, 2022, in Huntsville, TX.  We had freezing temperatures going all the way down to 22 degrees Fahrenheit at night and early morning.  I was determined to finish this time, and nothing was going to stop me.  And I did.  I powered through the freezing temperatures and finished the 100-mile run.  While it was not a Western States qualifier time, I still feel accomplished.  This is a long story of how I got here, and a detailed account of the laps during the race (for future reference).
By the numbers: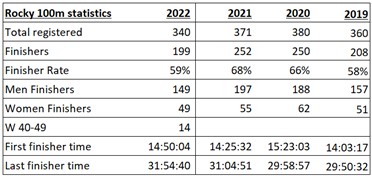 Preparing for the race:
I created my own training plan, based on my experience and some research I did on training for a 100-mile run.  I did a low mileage training, mixing in some strength (CG boot camp), swimming and biking on the trainer, and a sprinkling of some shooting competitions in between (it is still training, as it is time on my feet).  I was not able to do an overnight training run, like when I ran 20 miles with a group in Marin Headlands, started running at 10 PM and finished at 3 AM.  I just didn't know too many ultra-runners here in TX yet, nor a park/trail that is open 24 hours that I can run on.  
I also decided to do this run, in memory of my friend, Herman, who did not survive pancreatic cancer, and passed away in 2011.  His death anniversary was coming up on March 1.  I created a fundraiser dedicated to him and raised funds for pancreatic cancer research.  I achieved ~75% of my fundraising goal to date!  (My goal was $1k).
The race weekend came so quickly.  Getting ready and packing for things to bring, I started staging my stuff a week in advance, since I knew I was going to be busy at work.  Still, I took that Friday off and started packing.  I carpooled with my friend, Kathy, who was my pacer, and her boyfriend, Jeff, who also ran the race.  When I was packing up my car to drive to my friend's house, my dog escaped and ran away.  I had to drop everything; and ran after her throughout the neighborhood.  I have a spoiled dog.  She thinks it is playing when I run after her.  After 45 minutes of running after her, and with the help of a neighbor, we captured her, and I took her back home.  I got my shakeout run.
Packet pick-up:
We stayed at an Airbnb in New Waverly, TX, which is about a 16-minute drive to the race site.  The day before the race, we set up our popup canopy tent at the start/finish.  There were a few other people I knew running the race, which was nice to see some of them along the course at the out-and-back.  My Trail Sister (a running group), Sara, another much faster runner, stored her race stuff and bags at our tent.  Another wonderful lady, Michelle, from Florida, whom i met through Tejas Trails, came alone, no crew nor pacer, had laid out her stuff in our tent.  Lastly, one of my teammates Steve from the triathlon club, Team RadioActive, also did his first 100 miler at this race. He had 4 pacers/crew, which was great support especially for one's first 100.
We picked up our packet that night before the race; it was already cold and was an indication of what is yet to come as far as temperatures during race day.
Race day:
The race was held at Huntsville State Park, which had a few hills that didn't seem too bad in the beginning but seemed so difficult in the latter part of the race.  The route was 5 laps of a 20-mile loop.  I'm usually a stress case right before a race.  Since I've met Kathy and Jeff, I have become calmer and relaxed before the race because they help with the positive vibes and keeping calm.  I felt a little anxious, but it was much less than before.  After setting up and unloading a few of our stuff at our tent that morning, Jeff and I headed to the start line, and started our race at around 6:20 AM.  It was a rolling start time; one can start within the start window for which we signed up. 
My plan for my pace is to bank time in the first 2 loops, primarily to account for walking a lot at night and in the dark, based on my experience.  I just cannot keep myself awake and running at night, especially this time around when I did not get any overnight long training run.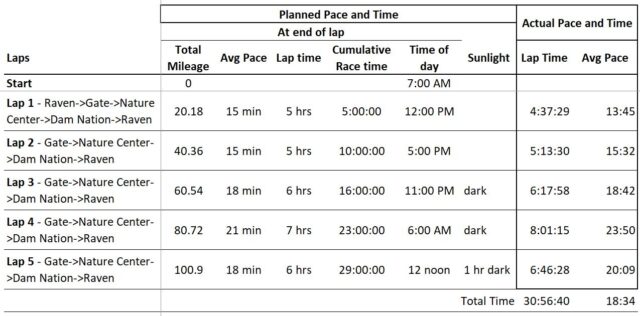 Lap 1:
My legs were still fresh.  Although it was super cold, I was excited.  Jeff and I ran together; and maintained an average 14 min pace – this accounted for the stops, which means that we were running faster.  There were low posts with letters of the alphabet along the route, most likely for emergency purposes (to be able to locate a runner).  We played a game, say the first word that starts with that letter.  The course was not too challenging, but it was not an easy course either.  While it may be advertised as flat, there are some hills.  As we ran, Jeff mentioned several times that we may be going too fast, and that he was flirting with the pace.  I think we stayed together till the letter 'S.'  During this lap, we met a lady from Michigan, her name is Heba.  This was her first 100-mile race, had done a 50 miler previously, and recently just climbed Mt Kilimanjaro last December – so I knew she would do great at this race.
The course had a lot of bridges.  In the early mornings, they were very icy.  I relied on the traction of my trail shoes, as I was able to jog through the icy bridges.  It was so cold that there was frost on my hair!
The fun part was the Corona tent, a beach oasis in the middle of the woods, where they had Adirondack chairs.  I sat down and had Jeff take my picture.  I took a lot more pictures during this lap, as I was taking in the views. 
My nutrition worked well during this lap.  I had my Spring Energy, dried apricots, fig bar, non-caffeinated Tailwind at the aid station, sometimes just water, sometimes ginger ale; had aid station food such as PB&J and chips.  I didn't have pickles nor pickle juice.  Additionally, every 4 hours, I took one of the BASE Red pill.  I got back to the start/finish area, with my game face on, saw Kathy and let her know that Jeff was not too far behind me.  Twenty miles down at this point, I refilled my bottles, ditched the cold weather gear and lights, and took a bathroom break.
Lap 2:
I felt like I went too fast during the first lap, so I backed off a little bit on this lap, but still with the goal of finishing the lap in 5 hrs.  I ran by myself at this time.  At the out-and-back sections, it was great seeing my friends who were also running the race, and high-fiving them as we ran by each other.  I cheered on Su, my sister's friend from Las Vegas trail runners.  She is super-fast and runs several 100-mile races a year (maybe at least 6).  Among my TX friends I saw Sara, another fast and bad-ass runner, then Steve from the triathlon club.  I didn't see my new friend Michelle from Florida; she may have been too fast that I didn't recognize her.  
During this lap, I still felt strong, had no issues, but took several bathroom breaks either at the porto-potty or in the woods.  Nutrition was the same as the first lap, including taking the BASE Red pills, now every 3 hours (after I texted my sister asking how long before I should take the next one).  This lap was probably the hottest lap although it probably just went up to 50F.  It could have been shorts-weather.  I wore my running leggings and long sleeves; it was still comfortable.  The roots were starting to be a problem.  While I was aware of them during the first lap, I started to worry about seeing the roots, or missing it then tripping, in the dark at night.  I started to think about things I needed to bring for the next lap, as I was approaching the start/finish and our canopy tent: more Spring Energy, more bars, more BASE Red pills, a change of clothes as my long sleeves and layers were sweaty and wet. 
Lap 3:
I took a slightly longer break at the start/finish prior to starting this lap.  It was going to be dark in an hour or 2 from the time I started this loop, so I had to prepare my waist lamp, the Kogalla, and back-up batteries, and my Garmin charger and battery power-bank.  Temperatures were dropping as well, and I was very sweaty from the last lap, with my shirt still wet; so I changed my shirt and put on a fresh long sleeve shirt.  I took my jacket from this morning, it has been drying under the sun at our canopy tent, and the fleece headband.  Jeff never caught up to me.  I asked Kathy how far back he was, she said maybe 15 minutes.  I thought to myself, maybe I slow down a little then he catches up and we can run/walk together in the dark.  I anticipated that I would finish this lap at around 11 PM.  I also suggested to Kathy that she just run with Jeff at mile 60, (after completing lap 3) instead of pacing me, so she can then pace him and meet up with me at lap 4, as I expected to be walking a lot more by that time.  Jeff did not have a pacer, and this was his first 100-mile run.  After packing up my stuff, I went off and started the lap.
At this race, runners are allowed to have a pacer after 50 miles.  By the time I reached the aid station at mile 50, it was dark, maybe around 7 PM.  The other runner I knew, Steve from the triathlon club, had 4 pacers.  One of his pacers, Corby, volunteered to pace me for 10 miles from mile 50 to 60.  I was pleasantly surprised to have him pace me at this point, but also warned him that it may take me 3 hours to do 10 miles.  He did a fast walk, at around 17 to 18-minute pace, and I followed him.  We chatted a little and kept to pace, but slowed down on some of the hills.  Those hills, while only a slight incline, felt like a 45% grade.  I knew I was getting tired.  I looked for my BASE Red pills in my pack – I was out of them, I forgot to refill my stash when I got back to the start/finish.  I grabbed some of my fig bar instead – it was a little frozen, but still good.  I felt like I was frozen.  At the aid station right before getting back to the start/finish, I had some hot broth to keep warm. I took my hand warmers in my pack and inserted them into my gloves.  I figured I just needed to get back to the start/finish, then get more nutrition and more layers. 
Lap 4:
Fatigue was setting into my body.  I got back to our canopy tent at the start/finish and it was very cold.  By this time, the temperature was probably below freezing.  There was no snow nor rain, but just a cold front. I refilled my bottles at the aid station prior to getting to the tent.  I filled up with my nutrition and put the BASE Red pills in my pack.  I took off my pack and put on the puffy jacket, to keep warm as I would walk a lot more during this lap.  I took care of my electronics, found my Garmin charger (which I forgot at lap 3, but all was good since the watch was still working), and put on the charger attached to the power bank.  I put an extra power bank in my jacket pocket.  I took my trekking poles with me, then Kathy and I took off for lap 4.  I didn't think twice about my comment earlier, that Kathy just pace Jeff and come find me on the course.  We took off at around 10:20 PM – I remembered thinking I was slightly early and on track per my estimated pace and finish time.  But I forgot, I actually started at 6:20 AM not 7 AM.  I was still on track.
We started strong, a fast walk, some slow jog, and shuffle.  Kathy tried her best to keep me at the 17 to 18-minute pace.  About 2 miles into this segment, I was about to take a sip from my bottle, and realized I forgot my hydration pack at the start/finish at our tent.  We didn't want to walk back, obviously, as I will be wasting time and am already chasing cutoffs.  Kathy quickly calmed me down, gave me her bottle, and had a plan: we eat at the aid station and take some food with us (which the aid stations were only about 4-6 miles apart); then she texted our 'home base' at the start/finish to bring my hydration pack to mile 70 at the Nature Center Aid Station – which was only a 1 mile walk from their location at the start/finish.  I had no hydration pack and food for only 10 miles (which was approx 3.5 hours).  I didn't worry too much about it after Kathy laid out the plan.
Nutrition was the last thing on my mind.  I ate when I was hungry.  I had ramen and hot broth at the aid stations.  I took one BASE Red pill during this entire segment.  I should have taken in more regularly every 3 hours, like I did during the first 2 laps.
I was falling asleep while walking.  Kathy did her best to keep me awake, telling me stories and asking me questions.  However, I was really getting tired.  I had some of the chocolate covered coffee beans, but they were not keeping me awake.  I never had Red Bull so I didn't want to drink it.  I may have been sleep walking.  I'm glad I had my trekking poles as I used them to hold myself upwards when I was falling asleep.  My Kogalla light used up the two other power-bank batteries I carried, then died.  The cold temps did not help with battery life. I ended up using Kathy's back-up headlamp for the last 6 miles.  I cannot remember a lot of that part of the race, except that I was freezing as the night/ early morning went on.  We arrived at around 6:20 AM to Raven aid station (the start/finish).  We had more broth, then went into the heating tent.  We spent at least 15 minutes in the tent thawing out.  At that time, I was thinking about what I will do next.  I was 80 miles into the race.  Was it time to hang up my shoes and get back home?  Or do I really want to finish?  I started thinking about my purpose.  I was running this race in memory of my friend, Herman, who passed away with pancreatic cancer in 2011.  I also dedicated some laps to two other people, Rick's sister and Darlene's grandmother, who both did not survive pancreatic cancer.  I was fundraising for pancreatic cancer research.  I had to continue going – for Herman and those who did not survive, for my donors, for those who believed in me and cheered me virtually.  
There was still a lot of time left.  We walked back to our tent, then we found a man sitting on the chair, all covered in a large jacket, looking frozen.  It was Jeff.  He has been there for a while and quit after lap 3.  I felt a little guilty.  His girlfriend paced me for Lap 4, instead of him.  But we agreed on this even before he came into the picture.  Kathy took him to the heating tent so he could thaw out and keep warm.  
It was already dawn.  I got another burst of energy when the sun came out.  I got ready, put on a clean beanie (my Liza Coaching fleece hat), and spritz on some eucalyptus essential oil to feel fresh and clean.
Lap 5:
With renewed energy, I started off with a fast walk.  I had no more pacers at this point.  The last thing I heard from Kathy and Jeff, before I left the tent, was 'Go get it girl!'  I didn't want to disappoint them. I ran and jogged for a little bit and alternated with a fast walk.  In the middle part of this segment, after 90 miles, I started to feel tired again.  My mind was wandering elsewhere.  In some cases, I thought I saw animals moving, but they were just bushes.  I kept up with my nutrition again but did not always remember to take the BASE Red pills.  I had 6 miles left and kept looking at my watch.  I knew I would not make the Western States cutoff, but I can still make the 2pm cutoff, so I kept moving.  I definitely felt very fatigued.  
With 4 more miles to go, I crossed this long flat trail by the lake, and on the other side was the finish line, where I could hear the festivities. 
Back in the woods area, I was looking down on the roots – there were still a lot more roots in this segment, especially towards the end.  I noticed that the roots had paintings on them.  There were skulls, hearts, and circles.  These were not visions, I looked closely and there really were faded paintings.  I passed this older lady who had the lean.  She was using two long thick branches as trekking poles.  A lady in street clothes was walking with her, keeping her company and telling stories.  I cheered her on as I jogged past them.  I prayed that she would also finish, she had enough time but may need to hustle.  This was about 3 miles to the finish.
As I got closer to the finish line, I started feeling relief, that I am actually going to finish a 100-mile race within the race cutoff.  I saw Kathy come out about ¾ of a mile to the finish, right by the power lines.  She was calling Jeff, to get ready with a camera.  She ran with me till we arrived near the finish chute, and then I ran through the finish line. 
After the finish line:
Kathy and Jeff already tore down our tent and packed up, so that when I finished, we could immediately drive back to our Airbnb and shower then sleep.  Later that early evening, Kathy drove us back to Austin.
A runner's race experience can only be enhanced by the support of family/friends.  A 100-mile race is never easy, no matter the course, weather, etc., it is still a long way to go! I had a super crew/pacer Kathleen who took good care of Jeff and me (one crew/pacer, 2 runners).  She carried heavy stuff (she does boot camp regularly so she's strong), made sure we had our food and gear, paced me for 20 miles through the night, tore down and cleaned up our canopy tent and all our stuff, took pictures, and drove us there and back.  While I did not have a lot of friends/ crew onsite helping, I had virtual cheers and support from friends and family from near and far.  I felt like those support also helped keep me going.
After doing this race, I swore to never do another 100-mile race.  It takes a lot of time to train for it.  It takes a lot of time to run it.  While writing this account of my Rocky 100 journey, I am thinking, now that I have invested a lot of time on this, I might as well do at least one more 100-miler, perhaps finish it within the WSER cutoff; and explore other challenging trail races (like the sky race?), to continue to develop into a stronger, faster runner.  But first, this year, I have another goal of completing my first full Ironman triathlon race.